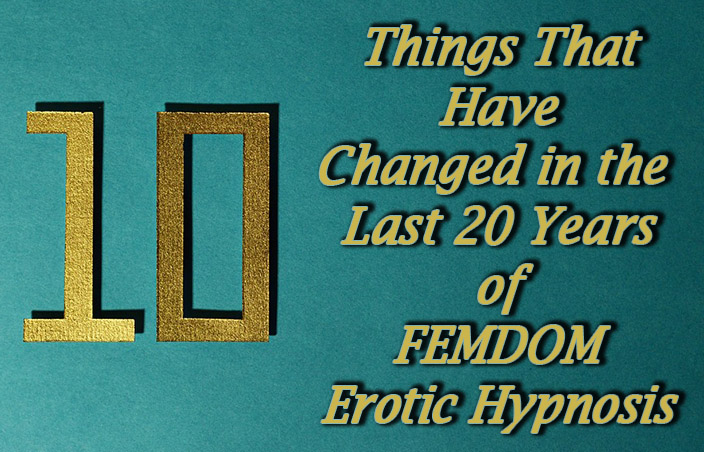 Hello everyone, now that I'm an accomplished script writer, and blogger who just this month has reached  TWENTY YEARS OF EXPERIENCE in the world of Femdom Erotic Hypnosis, I think I'm going to start calling myself an expert, and lording my accumulated knowledge over other people by saying:
As someone with TWENTY YEARS OF EXPERIENCE…
Okay, I'm not, because that would make me (even more?) insufferable, and also because there's a certain misleading nature to it, as it sounds like I've been working in the scene the whole time, where slightly over half those years were just me being a horny consumer.
That isn't to say I haven't always paid a lot of attention the entire time (I have, it's how my brain's wired), or that my experience as a consumer isn't invaluable (it's hugely valuable and necessary to my work), but the context matters… so while you bet I'm adding that to my website, it will be qualified.
Anyway, no one reads the preamble to a list (or the entries, just the bullet points), so without further ado, let me bring to you:
The Ten Biggest Changes in Comercial Femdom Erotic Hypnosis Over the Last 20 Years!
10. There is More Information Available to Everyone.
Okay yeah, part of this is "The Internet's bigger than it was in 1999… grandpa" but it's also relevant to the difference between now, and 2005, or even now and 2015.
In the past, you might have a Domme's site where she would provide an About Hypnosis, and it could be good information, and was there to encourage you and hold your hand about your desires and experiences.
It was there for marketing, and that wasn't a bad thing.
You also had a site or two that were scene based, and you could maybe find people to chat with about this stuff, but you had to hope to find someone that knew more than you, was willing to chat with you, and who also didn't suck.
Now, there's practicing vanilla hypnotists on YouTube, there's TONS of content on the casual/non-Pro side of the Erotic Hypnosis world… there's even my site…
You can find out all about hypnosis in serious and informed ways, and while you still have to sift around the fact that people who are serious about hypnotism also tend to be weirdos (it won't make you taller, it won't fix your vision…), you can find reliable information that can demystify something that is inherently kind of mystical and mysterious in its own way.
9. Piracy Has Gotten Worse
It's not just torrents and P2P sharing, it's all kinds of temporary hosting sites, it's bootleg clip sites, it's people trying to sell content second hand, it's one behemoth of a porn site, a veritable hub of vice, that makes DMCA filing extremely difficult for people that don't play ball with them, and it's a few other sites that actively cultivate a hateful and exploitive view of the women who create and sell the content certain kinds of people feel entitled to.
There are a few places where piracy has been a cultural cornerstone, and these places are also about as anti-women as you can get. It's a point of pride to steal and share a woman's content, especially if the person doing so thinks these women are somehow "taking advantage of/victimizing" their audience. As someone who used to feel an obligation to try and help my clients manage their piracy issues, I saw A LOT of what certain kinds of people had to say, and it was disgusting.
Enjoying Femdom, as these kinds of people demonstrate, doesn't mean that you're a feminist, or that you inherently like, or respect women, it means you have a hard-on for a certain kind of thing, and the conflicts that can create can also motivate some people to see their piracy as a kind of moral stand, and all sorts of other bullshit. As far right extremism continues to grow and share space with piracy hubs, the intentionality and vigor or piracy is going to stay present.
Further, with the rise of the gig economy, and the increase in wealth disparity, you're going to see piracy as a response to economics also be a factor… so you know, there's also that.
8. Porn, and in Turn Fetish Content is More Culturally Acceptable, and the Market is Bigger Than Ever
I know, I know, another change that's not tied directly to hypnosis… but come on, what were you expecting? Me being like "dark metallic pocket watches are in, and gold is out", or "swirls found to be less effective than spirals".
Basically, there's more money in fetish content now, but it's also more dispersed as you'll see in the next entry on this list.
As the internet has gotten better, bigger, and faster, it's made it easier for people to explore their perverted desires, and as on-line shopping has changed in the last 20 years, it has made it easier to be discreet in your buying habits. Buying porn is normal now, and buying fetish porn is also basically normal. We've moved as a society (depending on where you are) to the point of kind of wink-wink-nudge-nudge know/assume that everyone has a quirk or a kink, and this is by and large a good thing.
There is more money in fetish porn than ever before, and that means…
7. It's Harder to Find Real Hypnosis
So let me start this by saying yet again, there's nothing wrong with themed content, this isn't a value judgment, this is about people looking for real hypnosis, because being really hypnotized by a woman who knows hypnosis IS THEIR KINK (and mine).
For the longest time we, the femdom hypno-fetishists of the world, were an underserved market. There was A LOT of money in us, and we would gladly spend it on the things that turned us on and got us going. Hypnosis was, to the outside, easy money. It was always a matter of time before people realized this was an exploitable market, and there are some very prominent people in our scene who do very well, that do not know, care about, or practice hypnosis, who have been here for years because of this fact.
They're getting paid, good for them, I'm not naming names, and I'm not talking about that.
There were never any good old days, in part because there have always been, I don't want to say fakers, but we'll just say fakers here knowing I'm not trying to be a dick about it.
Not only were there fakers, but there were people that were bad at what they did, and did a terrible job communicating what their products were (I bought basically a GIF for $25 back in the late 00s, and I bought it from a real hypnotist), so I'm not saying "then" was better.
What I am saying is that in the world of people advertising that they were offering hypnosis, it was statistically speaking, easier to find real hypnotists, just based on a per capita breakdown.
It would be too easy to blame a Domme or two from the past, and a case could even be made for them maybe doing more harm than good in this regard, but the bottom line is that the influx of Themed Content Creators that's been happing the most consistently over the last ten years, which established hypnosis as a theme for porn and not as an actual discrete experience, was inevitable.
Adult entertainment/sex work IS a hustle, and someone will find out where there's money being left on the table (as they should, because this is a hustle and you need to get paid), and turn that into an opportunity.
(As a brief aside, I take a little bit of mean spirited joy from some of the Findom, Financial Domination, crowd that coopted hypnosis a little bit now being like, "Oh my god, there are so many fake findoms". Everything moves in cycles, and patterns aren't patterns because they happen once.)
 6. The Content Now is Better Than Ever
Lots of people have blazed the trail into figuring out HOW to make this stuff work in the digital space, and how/why things can or should be constructed to have the best effect, and we've all benefited from them.
The Dommes have learned from each other, have learned from the market about what does and doesn't work/sell, and most importantly, it's easier to get going because there are so many examples of effective ways to make and do this stuff.
There's more to this as well.
The content today is also more diverse in terms of taste, theme, and execution. There are tons of great classic files, and there is stuff that was recorded for cassette tape that still holds up, but when you listen to a lot of stuff over the years, there's less continuity in ideas from the start of a piece to its ending, and less continuity within a Domme's own catalogue… using triggers like Easter Eggs that reward listeners etc. or more so, just having a more established tone.
As a subsection of this, in regards to diversity, the casual/non-pro/non-femdom exclusive side of the erotic hypnosis world also really seems like it has a lot of growth and change momentum, with a lot of different voices, and a lot of interesting things being done by people that are working very hard. That's not my scene so I'm pretty limited on what I know about it, but it seems like good and great things are happening there.
5. The Gimmicks (NLP, Binaural Beat, etc.)
Part of the content getting better includes using the different tools and resources that are available to help augment hypnosis, or approaches to trance. The last ten years have seen a few things, we'll call them gimmicks… and for good reason, rise to prominence.
Binaural Beats allegedly help the mind reach a different state by influencing brain waves (or something like that), and they're the whomp-whomp-whomp sound you hear in some files that sounds like a wiping a plastic length of tube over their head in a circle. They aren't without metric, and according to some Dommes I've spoken to, they can be deployed to effective mimic a light trance state in a fair amount of listeners.
NLP, neuro-lingustic-programming, is a communication modality that teaches the practitioner to understand how the person there are talking to communicates, as well as how to communicate with them using certain philosophies about language and how people can respond in a broad psychological sense.
I think it's fairly self-evident why this would be something that is partnered with hypnosis, and can have a greater impact when used in unison with trance.
Nothing, and I repeat, nothing is a magic bullet, and NLP does have some conceptual crossover with things like pickup artistry, and also focuses a lot on framing, and reframing of language as pivot points for how and why we think.
It's been debunked in different places, and that's because while we're all into mind control here, the reality of the mind is that people are different, they think different ways, they have different internal emotional lives, and different relationships to language. That said, it is not without its merits.
ASMR is an acronym for something I'm not going to look up the meaning to, but is an auditory phenomenon which causes certain kinds of physical reactions in some listeners, and is triggered by a bunch of different weird sounds, and tones. Since it causes a physical stimuli in people it can be used as a convincer, it can also be used as a distraction, and/or can help raise search engine optimization value for files with it in its name or description, especially on YouTube.
The reason why I've called these things gimmicks isn't because they are disposable and not valuable, it's because they're bits and pieces of additional content in regards to hypnosis. They're an add-on, something you dress up a file with, they're not hypnosis in and of themselves.
Gimmicks are, by dint of being recognized enough to have appeal as a gimmick, parts of trends. The HFO, the Hands Free Orgasm is also in gimmick territory, in that while it's not quite a marketing ploy, it's not quite "not". HFOs are feasible, they're possible, and they do happen… but they don't happen to everyone, and there's a real binary, provable result to them: either you prematurely ejaculated or you didn't, and it got so popular as an idea… as a gimmick, that it jumped the divide from hypnosis to plain old Jerk Off Instruction…
…
….
Maybe this entry should have been called Acronyms…
4. The Audience is More Diffuse, and So Are the Dommes
Or Yet Another Thing That Social Media Changed.
Femdom Erotic Hypnosis is a pretty narrow fetish if you think about it. Just look at all the words that go into explaining exactly what it is. If you compare it to other fetishes, most of them are just one word, sometimes two… but three, that's a specific thing to explain, and each word in this fetish's name is as crucial as the other two.
Right now there's nowhere with any functional utility that unites the fetishists, and in turn nowhere for Dommes to advertise to a captive audience, instead everything is a very deliberate one-to-one relationship that is social media. There's tons of utility to this, but there's also downsides (we're all on Twitter et al. we know how this goes).
In previous iterations of the scene and the internet there were yahoo groups, there were different version of Inraptured (included one that was spell en-raptured), and other close to neutral spaces, but that's not the world we're in, and the last thing any Domme needs is yet another space that requires their creative or emotional energy.
Why?
Because, as will be covered in greater detail later in this list, Dommes are already spread thing, and not just from their social media and their own web sites.
Dommes have to manage the different platforms their content is sold on, different membership/subscription programs, their correspondence, and their social media, as well as actually generating new content.
So while a hub with solid SEO would have utility and value, for it to maintain that value the Dommes would have to spend more of their time, and as such professional energy on something that would in many ways be redundant.
And as for where the subs are… they're everywhere as always.
(I'd try to make this site more of a hub, but aside from what would be obvious conflicts of interest given my work, I also just don't have the energy or the interest.)
3. Video Chat!
This is another "Hey Grandpa" seeming entrant for the list, but…
THIS.
IS.
A.
BIG.
DEAL.
You might be thinking that it's cool because you can see your hypnotist now, and you can chat face to face over long distances, and since you can see them, they can do cool stuff with pocket watches, or their boobs, or tell you to look into their eyes, and yes, all of that is awesome, but here's why it's in the Top 3.
The real reason video chat is awesome isn't because you can see them… oh no… it's so they can see you.
Hypnosis is a cooperative activity that involves the hypnotist being able to interact with and read their subject.
In the past, without real time video, they had to go by sound. Listening for breathing cues, changes in speech patterns, things like that, and that still happens today because not every call will be a video call, but when your hypnotist can see you and watch you, she can give you an infinitely better experience by playing off of you. And that leads us nicely into…
2. High Speed Internet and Digital Video Have Changed Presentation
When I first started back in 1999, you could have audio CDs (or cassette tapes) of files, one file per disc usually, mailed to your home so you could listen. I am well aware that Twenty Years is a looooong time ago, especially in the information age, but this is an important starting point for context.
How much storage does your computer have?
How much storage does your backup drive have?
How long would it have taken you to download a 1 gig HD video ten years ago? How about five?
More so, how long would it take your Domme to upload that… not just once, but to multiple sites?
Think about how fast it is to download an audio file now?
It used to take a lot longer to up and download audio, so even if your Domme doesn't make video content, better speeds means more time to do other things.
It's pretty straight forward, but here's something for you to think about:
Someone out there reading this only watches their content by streaming it via a site that supports that as a consumer option (Niteflirt, IWC, ManyVids, etc.) because they do not want to risk having their content on their drive. Now they can watch, clear their history etc. and move on, without having to re-download, then re-erase etc.
Our speed of access as consumers is fantastic, and the fact so many places we shop now have a catalogue of our purchases, so if we lose them we don't lose access to them, makes our lives so much easier in so many ways. And I cannot stress how much faster upload speeds make doing the job of making this content easier too.
Then, there's digital video.
This is kind of a double edged sword for our scene. On the one hand it makes video accessible, and easy, and on the other hand, it means that since there's video, there's more visual representation, so the scene naturally gravitates towards looks.
This isn't to say that only hot women succeed in erotic hypnosis now, but it changes the dynamic of what's available, and it means you have audio files stacked up next to video files of people who are professionally hot and getting into the game.
So if you're a horny dude, are you going to impulse buy the new deep trance audio file, or the new hypno-joi video file with the sweet fake jugs?
Obviously, I repeat, OBVIOUSLY audio still sells well, and women who prefer their privacy, and/or prefer the focus of their work being on their hypnosis and not their looks still work and do well in this scene, but digital video did start to change things… and that brings us to the biggest, most important change over the last two decades…
And Number ONE! The Biggest Deal:
1. The Credit Card Processor Culling Had and Still Has a MASSIVE Impact
There were never a lot of credit card processors available to adult entertainers for their own sites and their own stores, and there were even fewer that supported erotic hypnosis.
Now, now there's one, just one credit card processor that you can go to if you want to have your own store, and that one option is not cheap.
There are a lot of reasons why this happened, but the shortest version is that hypnosis themed porn was seen as non-consensual (and if you look at any male-dominant hypnosis themed content you can see why…), so the banks that back the processors decided it violated their terms.
Now, it's really hard for you to have your own store on your own site, and here's why that's a big deal.
Those sites I listed above, Niteflirt etc., all take a minimum of 30% of every sale or transaction, which can be at minimum around twice the processing % you would have from having your own store.
You also have to post your content there, which means it's next to all the other stuff that's out there, all the porn stars, cam girls, etc. that can divert clients from sticking with your product. Yes, cross-traffic does happen, but the great truth about sales is that you want to get someone to the cash register and out the door as fast as they can once they have an item in mind, so they don't change their mind.
But, that's not all.
Everywhere else except for Niteflirt can't say hypnosis (and SO MANY other words), so you have things like Mesmerize etc. as a porn category. It's now actually just another category of boner fuel, which fuels #7 on the list, It's Harder to Find Real Hypnosis, by lumping everything together.
This means, for the Dommes, they also have to post their content on multiple platforms with different banned terms, all with their own pay out structures, decentralizing their income, putting a critical element of their business in someone else's hands, and can be left holding the bag if one of these places has any kind of hiccup in their payouts.
And for you, the consumer, it's harder for you to find what you're looking for, and it's more expensive now because cost has to offset the percentiles of doing business on and through these sites.
And yes, there are upsides that come from places like Niteflirt.
They handle chargebacks, they have their own customer service, they host content for clients so Dommes don't have to deal with "I lost my file…" emails, but it's still cash out of pocket for the people that actually make our pervy dreams come true.
So now, because she can't have her own store, a Domme has to send you away from her site to maybe get distracted by other content, and all to make less money off each and every sale.
That's the biggest change.
(Also, there's the concern that eventually our stuff will end up being purged from the internet as a whole due to restricting access,  or that people who have gone into business for themselves functionally end up working for Big Porn anyway…)
So, there's been a lot of good, there's been a lot of challenges, but all industries have to be adaptable, and have t be willing to learn and grow, and if you want to know what else I've seen in the last twenty years, it's that.
Never underestimate how hard your Domme works, most of what she does, you'll never see or think about, And when her prices go up, it's not because she'd greedy, it's because she, like all of us, deserve a fair wage for their labor.
Happy New Year everyone!