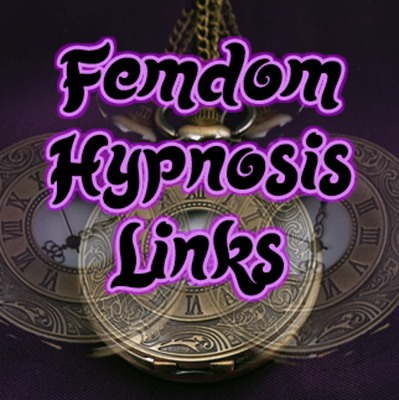 Hello and welcome to the external links section of my site. Everyone featured here is a Femdom Hypnotist, and while I don't know everyone that I'm linking to, I think it's important we share and connect with each other in this scene.
If you'd like to be featured here and you're not, Contact me Here and we'll make it happen.
The Following People are listed in Alphabetical Order: 
(Links of active people posted with permission, or by request, inclusion is not endorsement)
---
Hypnotic Aphrodite 
In Her Words:
"I am a hypnotic witchy Goddess who enjoys conditioning my pets and watching you lose your mind. I don't do sessions for pay but I welcome friendly conversation and see where it goes from there! I have many files on Youtube and Soundcloud, as well as post content on Twitter and Tumblr!"
YouTube
Tumblr
Twitter
Soundcloud
Patreon
Redbubble
Mistress Chadford
In Her Words:
Hello everyone, I'm Mistress Chadford.
I became interested in hypnosis when a fetish client of mine began scheduling time with me just to hear me speak and asked if I'd heard of erotic hypnosis.  I became fascinated with the process, then completed a one year hypnotherapy course to master more techniques.  I've been creating videos, mp3 sessions and sharpening my skills with live phone and cam appointments for around seven years now.
My hypnotic creations can be found here:
NiteFlirt Profile  (Goodies tab for files, contact for customs)
Mistress Chadford on Youtube (Samples)
---
Goddess Danika
In Her words:
I offer Exquisitely Sensual Erotic Hypnosis and Irresistibly Arousing Female Domination for the Discerning Connoisseur.
NIteFlirt Listing
---
Enchantress Genevieve 
Enchantress Genevieve is a a Pro Domme and clip performer with an interest in cosplay, roleplay, and hypnotism. She offers a wide range on content and services, and enjoys practicing hypnosis and weaving it into her work whenever she can.
Where else to find her:
(Fun Fact: All clips sites and stores have slightly different rules, so that's why you see some stuff from a person one place, while only some clips on some sites)
---
Lady Inamorata
Lady Inamorata is a pioneer in the Femdom Erotic Hypnosis world, and has an interest in the spiritual as well as the carnal. She offers a collection of files as well as live phone sessions, and in her own words is "very intense".
I have gotten to know her a bit over the last few years and can attest to her skill and insight.
Her Site
Her YouTube Channel (where you can even find stuff I've collaborated with her on)
---
Lady Krystal Mesmer/Goddess Marquesa
About Her: She is possibly the longest actives/semi-active HypnoDommes in our community. She offers live phone sessions, and a vast library of audio and video files. While she runs/ran 2 separate sites and has 2 identities, over the years the content has met in the middle and is roughly equivocal in theme and delivery.
---
Goddess Lady Lita
The One True Goddess Lady Lita is an accomplished hypnotist with a large catalogue, tons of experience, and a profound insight into the submissive mind. Her work is very erotic, intense, and well made. She provides real time audio, video, and text trance sessions, and is a very skilled and accomplished hypnotist. She is very active, and making new content, and has always been one of my favorites.
---
Goddess Lana
In Her words:
Time to take your sissy Vacation
Visit the only sissification beach on the web. Get sissified through free games and audio. There is even a free forum for sissies like you to hang out. I have free and premium content. Exploring my beach is fun and exciting!
Camp Sissy Boi
(Audio content is Text to Speech)
---
Mistress Leslie 
Mistress Leslie is a FemFom hypnotist who produces and values skilled hypnosis with an emphasis and focus on themes of mind control that reflect her interest and study of the subject.
She has a very large and prolific collection of files that gets updated weekly, so there's always something new and interesting to explore.
She prides herself on interacting with her submissive subjects on Twitter and Niteflirt, in positive uplifting ways, and doesn't believe in calling her followers losers because she is not playing a character.
Site Erotic Deep Trance: http://www.eroticdeeptrance.com 
Twitter:  Mistress Leslie (@hypnoleslie) | Twitter
Niteflirt: Phone Sex — let's do it!
---
One True Mistress (aka Mistress Rose)
One True Mistress is a Femdom Hypnotist who offers erotic hypnosis, D/s sessions, and intensive Findom experiences. She has over 10 years of experience in the D/S community, and is no stranger to the weirder side of the bondage scene.
Twitter
Niteflirt Profile 
Youtube Channel 
---
The Secret Subject 
The Secret Subject is a hypnotist who has a youtube channel packed with inductions, vlogs, and other miscellany to help you get to know her and her style. Her services are Patreon based, refer to membership levels for the details of services she provides.
---
Sweet Tist (SweetTist)
In Her Words:
Hi, I'm SweetTist. I'm a gentlefemdom hypnotist whose biggest kink is having control of someone's mind, fantasies, and body. I sell hypnosis sessions, both text and voice, as well as hypnosis audiofiles. You can find me here:
Sweet Tist's NiteFlirt Listing 
---
Syren Rayna
Syren Rayna is a dominatrix who is also a skilled hypnotist. She puts emphasis on combining effective technique with her experience and psychological insights from the D/s world. She offers recorded sessions, and multiple types of live sessions.
---
Tessa Fields
Tessa Fields is a Semi-Retired Hypnodomme hypnodomme whose store is still open and operational. She, obviously, only provides MP3s at this time, and her catalogue is available here and does not appear to be generating new content: